Events
SPRING 2017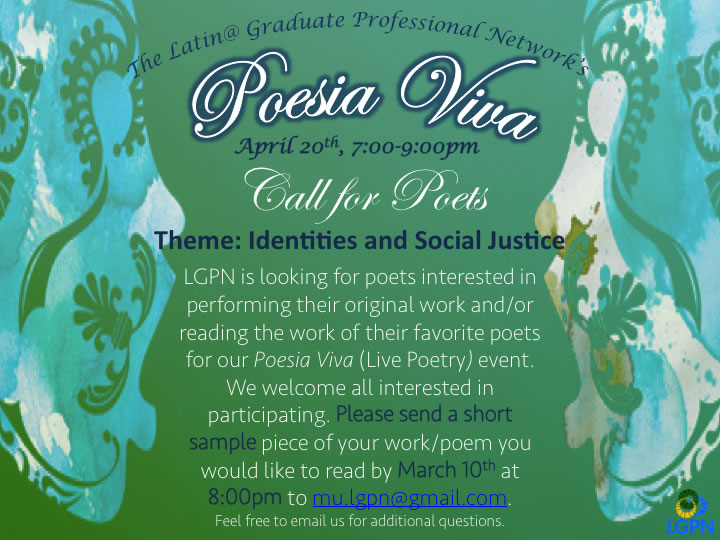 AWARDS IN 2015
As you know we are a young and growing organization. We are very happy to announce to our community that LGPN has just been recognized with two Chancellor's Excellence Awards 2015 as "Most improved Organization" and our own Rocio Rivero, also received "Most Outstanding Advisor".
By the way, in Spring 2012, LGPN also received a Honorable Mention as a "New Student Organization" in these same awards.
Thank you all for your support and we can't wait to keep building this Latino community together!!!
____________________________________________________________________________
Congrats to our new exec board 2015-2016!!!
Our new officers will start their position at the beginning of the summer. A new and exciting academic year is ahead of us! Join us to congratulate our new officers!
President – Veronica Perez Picasso
Vice-President – Moises Aguayo
Secretary – Marilyne Tamayo
Treasurer – Celia Apuche (temporary) , open position for the Fall
Social Media Coordinator – Jacqueline Gamboa Varela
GPC Liason – Celia Apuche May
By the way, the Treasurer position is still open. Remember that any registered student can run for the open position.
Also, thank you so much to the outgoing executive board 2014-2015 for all the great work done this year!
________________________________________________________________________________
"Facing a Lost Land: The 43 Missing Students in Iguala, Guerrero Mexico"
"Wellness Ceremonies & Spiritual Activities as an Act of Political Warfare"
"Mi Cuerpo Recuerda: Herbalism, Wellness, and (R)evolutionary Self"
FALL 2014
"Poesia Viva: imagenes y voces caribenas"
"Hispanic Heritage Month Celebration 2014"
________________________________________________________________________________
Summer activities 2014
LGPN tries to keep the connection between latin@ graduate students and summer is an excellent occasion to get together. So we prepared and enjoyed a couple of social activities: a bowling night (June) and a picnic (July). Look for the pictures of these events.
Our new officers for the 2014-2015 academic year!
President: Celia A. Alpuche May
Vice-President: Abel R. Gomez
Treasurer: Betsabe Castro
Secretary: Jacqueline Gamboa Varela
Social Media: Ma. Guadalupe Ruvalcaba
LGPN Nominations and Elections for Executive Board 2014-2015
LGPN elections will be held this Friday, April 25th at 5pm at the Multicultural Center. We encourage our members to run for a position and to get more involved with our organization.
The members can nominate themselves or any other member can nominate them. The nominated members should give a speech about what experiences the person has had in the past that can contribute to the position, why the person fits in the position and some ideas (proposals) for his/her position.
Positions available include: President, Vice President, Secretary, Treasurer, Social Media Coordinator & Campus Liason
Your assistance and support is very important for our LGPN community to contribute to the growth of our organization. See you Friday!
____________________________________________________________________________________
Updates and reminders for April
Our next general board meeting will be on Friday, April 11th at 5pm in the Multicultural Center (G107 MU Student Center). Please join us!
Join us for another Happy Hour & tentative Salsa Dancing after general board meeting on April 11th.
Last general board meeting for spring 2014 will be on Friday, April 25th at 5pm in the Multicultural Center (G107 MU Student Center). Our elections for a new executive board will be held during that meeting! We're planning to celebrate with the new board after it.
Also, we invite you to join us to volunteer with Centro Latino in his Healthy celebration of "5 de mayo" on Sunday, May 4th at 2pm in the Memorial Union. More information will be available sooner.
Hope you will all be able to attend these events~ Please let us know if you have any questions! You can contact me at caa5z5@mail.missouri.edu (Celia Alpuche).
---
"Latino Health in Columbia Community"
LGPN would like to invite you all to the talk "Latino Health in Columbia Community" on April 1st at 6pm in Memorial S110 presented by Eduardo Crespi, Director of Centro Latino de Salud. Mr. Crespi will present on health issues being faced by the Latino community in our area.
Refreshments will be served at the talk.
Be part of this activity and join us on this event!
Poesía Viva: Diversidad de Latinoamerica
Slam Poetry Night with the Kansas City Latino Writers Collective
Posted on September 30, 2013
Come celebrate Hispanic Heritage Month with the Latino Graduate/Professional Network at The Shack on Thursday, October 3 at 7pm. This event will raise cultural awareness and highlight the diversity within the Latina/o culture through poetry and other performing arts. The Latino Writers Collective, LWC is a group of Latino writers living and working in the Kansas City metropolitan area and throughout the Midwest region. If you would like to share some of your poetry or other artistic talents related to Hispanic Heritage Month at the event, please contact Danielle Quintero at dqwd6@mail.missouri.edu.
Everyone is welcome to attend!! Q&A session after performances. Food and refreshments will also be provided.
Readers include:
- Maria Vasquez Boyd
- Jose Faus
- Miguel M. Morales
- Jason Sierra
For more information about LWC please visit: http://www.latinowriterscollective.org/index.html
Latino Family Picnic
Posted on September 19, 2013
Let's enjoy of a sunny day this weekend with a Hispanic spirit celebration! Hope to see you all there
Hispanic Heritage Month Celebration!
Posted on September 19, 2013
We are celebrating the Hispanic Heritage Month! Come and join us in the multiple activities the Hispanic and Multicultural organizations have prepared for you!
LGPN coming events Fall 2013
Posted on August 29, 2013
We hope everyone is having a great semester thus far! See what LGPN has in store for you this month
LGPN Sponsored Events:
Salsa Night, Friday 8/30, 9:30 PM, Blue Fugue
Salsa as in the ballroom dance, not the food. No dance partner or dancing skills required!! [:D]
LGPN monthly meeting, Friday 9/6, 4:00-5:00 PM, Multicultural Center
Join us to learn more about LGPN's upcoming events, leadership/volunteering opportunities, and conference/travel funding. Meeting will be followed by a Happy Hour.
Poesia Viva, Thursday 10/3, 7:00PM, The Shack
This event will raise cultural awareness and highlight the diversity within the Latina/o culture through poetry and other forms of performing arts. The evening will feature poetry from students and our featured guests, The Latino Writers Collective from Kansas City. Food and refreshments will be provided.
LGPN Invited Events:
Mesa De Dialogo, Thursday 9/5, 5:30-6:30 PM S-204 Memorial Union
Hosted by MU Voz Latina – open forum for individuals interest in networking and learning/discussing Latino or Latin American issues (i.e. research, projects, presentations, community programs, etc.)
Latino Family Picnic, Saturday 9/21, 1:00-6:00 PM, Hulen Lake Shelter House
Hosted by MU Voz Latina – event includes Latin American food, live DJ, and Latin American dances. MU Voz Latina will provide the main dish. Please bring a side dish. Event is open to MU faculty, staff, students and Columbia community.
LGPN Welcome BBQ
Posted on August 29, 2013
Welcome back to current LGPN members and new members!
We are looking forward to a fun-filled semester here at LGPN!
Our first event, the LGPN Welcome BBQ was incredible!
We are glad everybody had a good time.Thanks to all who made this event possible and to all those who attended!
Congratulations to our 2013-2014 officers!
Posted on April 1, 2013
President: Marvyn Arevalo Avalos
Vice President: Danielle Quintero
Treasurer: Francisco Ramirez Perez
Campus Liaison: Fan Feng
Secretary: Melissa Muñoz
Social Media Coordinator: Celia Alpuche

CONGRATULATIONS!
LGPN Presents: "Latina Stereotypes: From the Sexy Spit-Fire to the Hyper-Fertile Immigrant threat"
Posted on March 11, 2013
A presentation and discussion by Dr. Rebecca Martínez!
Please see the flyer above for information about our upcoming speaker and discussion!
When: Wednesday, March 13, 2011, 6:30 pm
Where: Memorial Student Union North – Benton-Bingham rooms N214/N215
Questions: Email LGPN
Refreshments will be served!
Hope to see you there! [:-)]
Join LGPN in celebration of Hispanic Heritage Month!
Please join LGPN for our first event in celebration of Hispanic Heritage Month!
LGPN Presents: Poesia Viva: Slam Poetry Evening with the Kansas City Latino/a Writers Collective! Please see the flyer for additional information, and if you would like to sign up to perform, please do not hesitate to contact us!
We look forward to seeing you at The Shack on Thursday, October 4th!
Featured Performers:
Maria Vasquez Boyd is a founding member of the Latino Writers Collective in Kansas City Missouri where she continues to write and publish her work. She is a graduate of the Kansas City Art Institute where she returned to teach in the Design and Illustration Department. Boyd taught at the Nelson Atkins Museum, worked for Hallmark Cards, and served as gallery coordinator for KC galleries. She exhibits paintings and illustrations across the country including murals in Mexico. Boyd also serves as producer and host of special programming on KKFI 90.1 fm community radio.
Gabriela Ybarra Lemmons is an MFA student in Creative Writing at the University of Kansas, and a graduate from the University of New Mexico. Her work appears in the anthologies Primera Página: Poetry from the Latino Heartland, Cuentos: Stories from the Latino Heartland, NewBorder: Contemporary Voices from the Texas/Mexico Border, and other finepublications. She is a founding member, and current president of the Latino Writers Collective. A native of South Texas, and a daughter of farm workers, Gabriela is also a member of Sandra Cisneros's MacondoWorkshop.
Miguel M. Morales, a former farmworker/child laborer, is a 2012 Lambda Literary Fellow. Miguel earned the Society of Professional Journalists' First Amendment Award. He serves on the Latino Writers Collective board and is featured in itsanthologies Primera Página:Poetry from the Latino Heartland and Cuentos del Centro: Stories fromthe Latino Heartland. Miguel's work also appears in From Macho to Mariposa: New GayLatino Fiction; and in the forthcoming To the Stars Through Difficulty: 2012 Kansas Renga and Joto:An Anthology of Queer Xicano & Chicano Poetry.
José Faus' work appears in the anthologies, "Primera Pagina: Poetry from the Latino Heartland" and "Cuentos del Centro: Stories from the Latino Heartland", and forthcoming "In the black/In the red", Raritan, Luces y Sombras. He is the 2011 winner of Poets & Writers Maureen Egen Writers Exchange Award.
September 25, 2012

Welcome Back LGPN!
Posted on August 29, 2012
I just wanted to say welcome back to current LGPN members as well as potential members! Please stay tuned to the website for information on upcoming events, meetings and such! We are looking forward to a fun-filled and educational semester here at LGPN!
So, watch the website, follow us on facebook and keep in touch! We hope to see you soon!
11th Annual Cambio de Colores Conference – June 13th – 15th, 2012
Posted on June 12, 2012
Here is an email we recently received from one of our members, Sarah May, regarding the upcoming Cambio de Colores conference that will be occuring this week here in Columbia! Check out the website and try to attend if possible! [:-)]
Hello LGPN members and supporters,
This message is to let you know of a fantastic opportunity to network with and learn from researchers and professionals from all over the country, and to see presentations by a few LGPN members–and it is happening right here in Columbia!
This coming Wednesday, June 13-Friday, June 15 is the 11th annual Cambio de Colores conference, hosted by the MU Cambio Center. As described on their website: Cambio de Colores (Change of Colors) is an annual meeting that, since 2002, brings together researchers, practitioners, decision-makers, and community members, to discuss the issues that Missouri, the Heartland, and other states face as a result of the demographic changes made evident by the 2000 Census, which clearly showed that large numbers of immigrants—most of them Latino or Hispanic, but including significant numbers of migrants and refugees from Asia, Africa, and Europe—were settling in rural and urban areas of every state in the region.
Here (http://www.cambiodecolores.org/) is a link to more information about the conference, including the conference program. You do not have to register to attend conference presentations and events!!! You can register for the conference by following the link above, but if registration is not financially feasible for you, the conference is open to the general public (except for the lunch and dinner events). Please take a look at the conference program to see if you can attend any events! Feel free to attend anything that piques your interest.
Also, the Cambio Center has some significant LGPN connections!! LGPN vice-president, Marvyn Arévalo Avalos and treasurer, Sarah May, are student fellows and research assistants in the Center, and Sarah May and secretary Danielle Quintero will be presenting at this year's conference! (Our presentation is Wednesday, June 13 4:45-6pm).
Please contact me (Sarah May: sfmty8@mail.missouri.edu) with any questions regarding the conference and/or the Cambio Center in general. I sincerely hope to see some of you there!!
Saludos,
Sarah May
CHANCELLOR'S EXCELLENCE AWARDS CEREMONY!
Posted on May 11, 2012
I know it is a little late, but we do need to brag a little! LGPN receives honorable mention for the "Best New Student Organization" category!
Yay!
Check it out here!
CARNAVAL CELEBRATION
Posted on February 20, 2012
LGPN has been cordially invited by the Brazilian Student Organization at the University of Kansas (BRASA) to attend the Carnaval celebration in Lawrence, KS, this Friday, February 25, 2012. See the flyer for more information!
Interested in attending? Let us know, and if there is enough interest, maybe we can caravan to carnaval!
Welcome to the website!
Posted on January 20, 2012
Welcome to the website of the Latino/a Graduate and Professional Network (LGPN) at Mizzou! Please understand that this still is still a work-in-progress, and check back frequently for updates to our member directory & event schedule!
In the meantime, feel free to check out our updated Member Directory, take a look at our Mission, view LGPN's Constitution, or, email us if you are interesting in becoming a member of our growing community!
Thanks for stopping by!